Yardi RISE continues to inspire women at Yardi and develop its community. RISE was created for women at Yardi to network, inspire and empower each other. After a successful December session that focused on building relationships, tops tips on mentoring and confidence building, there was a desire to learn more about mentoring.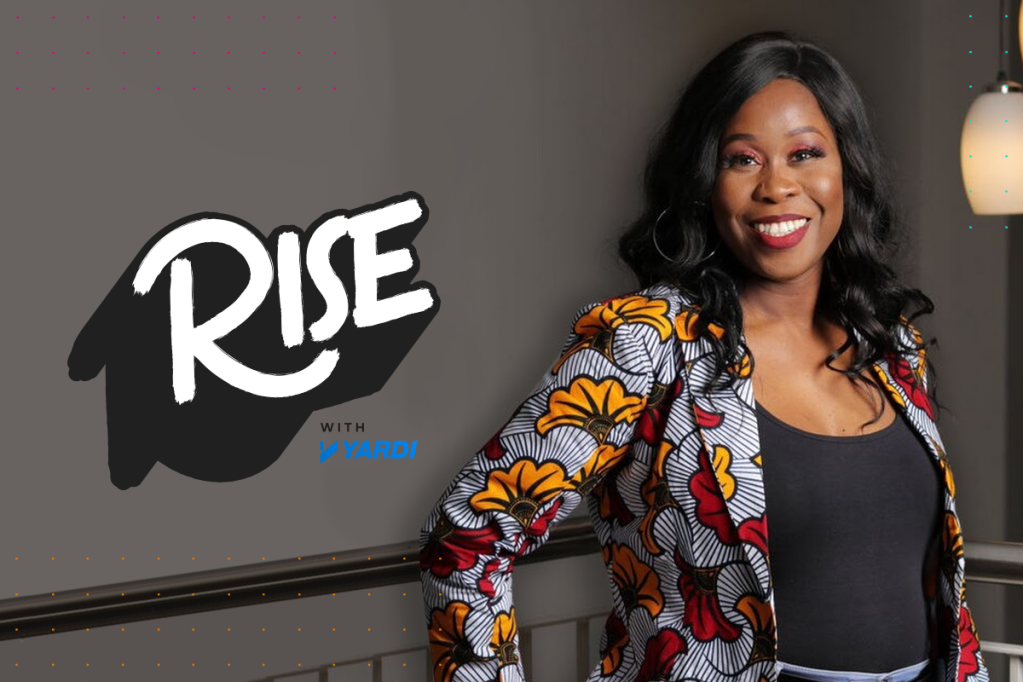 During the last RISE session, guest speaker Mavis Amankwah, a multi-award-winning entrepreneur, businesswoman, business coach and mentor joined us to discuss mentoring, leadership and confidence building within the workplace.
Amankwah began by speaking openly about her work and personal background. How she started in IT and then transitioned into entrepreneurship and how she dealt with adversity in her past, overcame it and used those experiences to give herself confidence.
"I always think when it comes to diversity, when it comes to gender and equality, when it comes to race equality, we have to do more. And now we are in a good position as women, as a woman of colour myself, to basically make a change and make a difference because we have to change the narrative and we also have to demonstrate that we can do it."
"Women need each other. We build and we grow together – and that's my motto. Build and grow together. It's really important to embrace technology, to build up our own personal profiles. I said to some of the ladies I mentor, build up your own personal profile, your LinkedIn pages are very important because it says it all. Whether it's for your career progression or just for people to get to know where you are in your career.
"When I started embracing my past and building up my confidence, I realised that I am someone that is different and it's okay to be different and unique – it's my unique selling point and everyone has one. What is your unique selling point? What makes you unique? You know, it's about being able to understand that things happen. I'm not a public speaker, but I've learned public speaking, I've learned to be able to train myself, inspire people, encourage people, to motivate people because of what I've been through."
Top tips from the session
What should I look for in a mentor?
"It depends, the first question you should ask yourself is why do you want a mentor? What do you want your mentor to do? Then give yourself a timeframe e.g., I want the mentor to help me through my career progression to build confidence so that I can be promoted. Then you need to look at what type of mentor you'd want – do you want a firm mentor that'll tell you off or a laidback mentor who'll listen and give you tips? Or would you prefer a boot camp mentor and have someone really strict to make sure you achieve your goals? Is it for personal development, career progression or dealing with past traumas? You should look at all those aspects and make sure you gel with that mentor as you'll be divulging information that could be personal. Also, think about finding one that's a specialist in the industry or sector you work in as they could have more knowledge and can help you achieve your career aspirations."
How to deal with imposter syndrome?
"Richard Branson has a quote, 'If someone offers you an amazing opportunity and you're not sure you can do it, say yes – then learn how to do it later.' If someone came to you but you feel like you're not sure what you're doing, ask yourself – why would someone ask for your help if they didn't think you could do it? Try and get away from the mindset that you're going to fail – try it out and if it fails, get back up and try again. My mother would always say, 'fake it 'til you make it,' because once you start something you learn from it and in a few months, you'll know what you're supposed to be doing. You ask for where you want to be, not for where you are. Talk as if you know what you're doing, not for where you are."
Do I need a good support system to achieve my goals?
"Definitely. You need to have a good support system because I feel for me if I didn't have support in so many ways in my career – I was in a man's world and there weren't a lot of women doing IT – if it wasn't for some of my other colleagues who were women and having support from them, I would've given up. I probably wouldn't have completed working in IT for about eight years because it was very tough. Then as a woman, when I was having a family, there were times when I needed help with my children and I couldn't do everything, so it was great to have support from my family and in the workplace.
Yardi RISE focuses on four pillars:
R – Recognise
Discussing things that affect women in the workplace, such as health (e.g., menopause, pregnancy and more).
I – Inspire
Celebrating each other's successes and empowering women in the real estate industry. These events can help inspire people who are new in their careers and want to work their way up the ladder.
S – Showcase
Exploring different opportunities that women can get involved with, e.g., events, speaking panels, mentoring opportunities etc.
E – Empower
Supporting, encouraging and challenging ourselves and one another, whilst being able to talk freely in a non-judgmental space.
About Mavis Amankwah
Born in Canning Town, East London on 28 August 1974, Ms Mavis Amankwah is a British-Ghanaian serial entrepreneur, businesswoman, diversity trainer and expert in marketing and public relations. Amankwah has helped 600-800 businesses, employing more than 300 people under her brands over the last two decades. She currently employs 10 staff in her Canary Wharf and Stratford premises who work with her under her various enterprises including Marvel Business Group, Women Like Me, Marvel Recruit, Rich Visions and Mavis Joy Consultancy. For more information, please visit mavisamankwah.com.
See how Yardi RISE is inspiring and supporting women in real estate.