Yardi's 2022 Proptech Survey, in collaboration with the European Public Real Estate Association (EPRA), was conducted to gain up-to-date insight into proptech adoption in the real estate sector across pan-European regions.
Real estate professionals across 25 countries provided insight into the adoption and active use of proptech in different day-to-day real estate management procedures.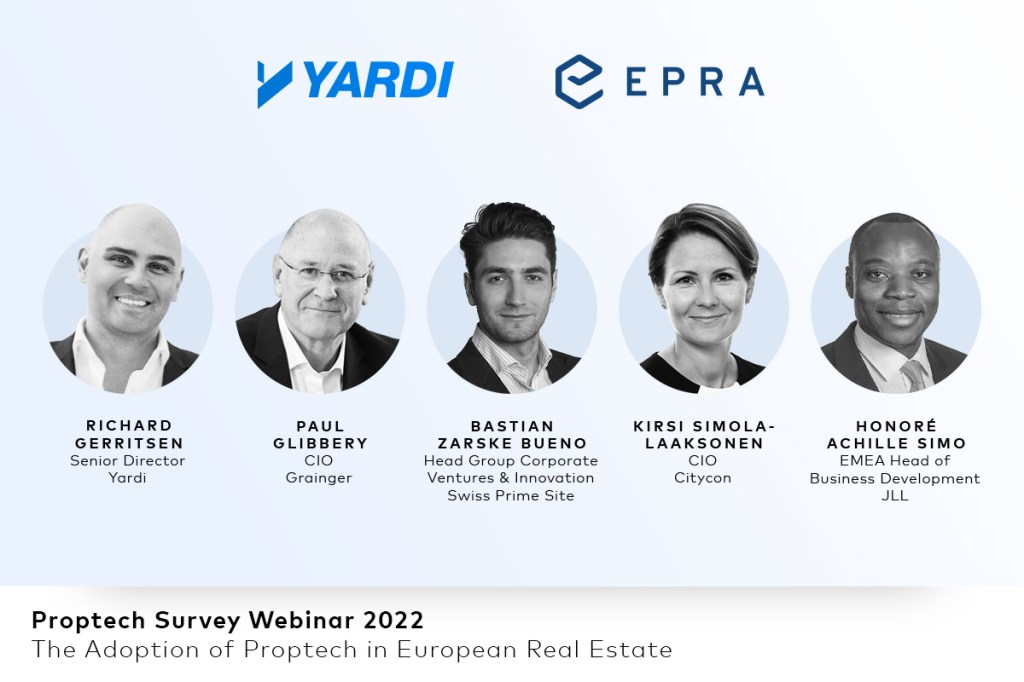 Following the survey, Richard Gerritsen, senior director for Yardi, brought together a panel of experts from Grainger, Swiss Prime Site, Citycon and JLL to discuss the results, addressing the impact, challenges and future of proptech adoption in the real estate industry.
What does Proptech mean to you?
Before addressing the survey data, Gerritsen opened the discussion by asking the panellists what proptech means to them and their businesses. Despite coming from different corners of the market, the panellists conversed that 'technology is merely the enabler' for greater organisational change and innovation.
"Proptech is about building a bridge between the real estate industry and technology," said Andreas Hoffmannat from Cromwell European REIT. "The right way to approach proptech is not to take technology and find the problem, but to first identify the problem and then select the right technology to provide a solution."
The experts agreed that once goals and strategies are defined, proptech can then be utilised to reach goals in a more efficient and valuable manner.
"Proptech is an opportunity to disrupt and change how we do things as a business," said Paul Glibbery from Grainger. "The challenge, however, is adopting an experimental mindset in an industry that is driven heavily by quick returns. If businesses are willing to push boundaries by implementing technology and adopting a new strategy, they must be willing to accept failure from time to time."
Bastian Zarske Bueno from Swiss Prime Site provided additional insight from an investment standpoint. "Proptech holds different roles within the business depending on how we collaborate with them. For us, it's not just a supplier, it's an investment opportunity to grow into new markets and business directions more sustainably."
What data stood out from the Proptech Survey?
Key findings from Yardi's Proptech Survey showed that 68% of respondents strongly classified technology as a business topic rather than an IT topic and 50% anticipated technology to have a major impact on their business in the next five years.
Despite having a seemingly positive outlook, 46% of businesses did not consider proptech adoption a high priority and a mere 2.4% of respondents were willing to invest more than 7% of their annual budget in real estate technology over the next five years. Most had intentions of investing 0-3% of their budget (40%) or were unsure (37.6%).
Achille Simmo from JLL reflected on this discrepancy between an apparent appreciationfor proptech in contrast with a lack of investment. Simmo commented, "As real estate professionals, we need to investigate further into this gap between perception and action of proptech adoption."
Simola-Laaksonen from Citycon mirrored this concern, adding, "The real estate sector has clearly identified that proptech offers plentiful opportunities in many sections of the industry. However, there is still a need for more clarity in terms of goals and intentions to guide prioritisation, as well as secure funding for these initiatives."
Bridging the gap between attitude and investment
For a seamless transition into tech, having a digital strategy as part of company operations is vital as it facilitates a proactive mentality throughout the company culture from the top down. Yardi's Proptech Survey set out to understand how the industry is putting the adoption of proptech into action.
Nearly 35% of survey respondents reported having a digital strategy that was either outsourced or still in planning, which resulted in speculation among the panellists.
"Many organisations still lack a power user for technology. In other words, someone who can take control, understand how to analyse data and get the best use out of systems," said Zarske Bueno. "There is still a lot of insecurity in the market and without a single person attributed to proptech, sophisticated technology can result in technical language barriers and misuse of data."
How do we overcome the obstacles with Proptech adoption?
Overall, the survey highlighted that tech adoption has positively impacted company performance, with 60% of participants rating the impact a '7 or higher out of 10' over the last five years. Key improvements reported focus on increased productivity and efficiency and having the ability to make more informed investment and business decisions.
However, digitalisation comes with hesitancy, as discussed above. Gerritsen asked the panel their thoughts on how the industry can overcome these obstacles.
"One of the most positive developments in the acceleration of tech adoption is that nearly 70% of respondents view proptech as a business topic," said Glibbery. "However, it is easy for a proptech project to quickly become an IT project, leaving the business at the side-line spectating. To prevent this, engagement from the business is fundamental."
The experts agreed that businesses must first create capacity for change rather than assume teams will adapt on top of their current day job. In doing so, technology will embed seamlessly into the business as a cultural transformation, which will help bring employees on the digitalisation journey.
Additionally, in an industry surrounded by tangible objects such as buildings, Simola-Laaksonen voiced, "Albeit difficult, we need to start pushing ourselves into an uncomfortable zone with technology that is not always tangible. To facilitate this challenge, we need to bring more transparency, open communication and sharing to the industry around the success and challenges of proptech adoption."
What defines success with Proptech adoption?
Despite the obstacles discussed, Yardi's Proptech Survey found that over 50% of respondents still anticipate technology to have a major impact on their business in the next five years. With this, Gerritsen finalised the discussion by asking the experts about their success with proptech adoption.
The panel stipulated that success arises with improved business metrics, strategic and operational speed and therefore, profitability.
"Proptech provides an opportunity for a cultural shift to drive genuine, data-led decisions," said Zarske Bueno. "Success is derived from the ability to correlate data in the real estate industry with a wealth of experience and knowledge to understand your business better."
To finalise from a technological standpoint, Gerritsen added, "The success of proptech isn't about investing in a tenant app that 'looks cool' and has 27,000 different colours. Proptech is about changing your business and operating model and your ability and willingness to do so. This is where true innovation lies. When we talk about proptech, such as Yardi, it is only 20-30% of the total topic. The technology offered is merely the facilitator – proptech is about companies willing to change."