Yardi's Justin Harley sat down with Zach Douglas, CEO for Orega and Jacob Sandelson, principal for General Projects at the FlexSA Conference 2021 to discuss what to look out for when entering the flex market.
As companies opt for a hybrid work environment, what does that mean for commercial real estate? The FlexSA panel session dived into those questions and the options commercial real estate operators may have going forward, whether they go into the flex market or partner with flexspace operators.
Jacob Sandelson, principal for General Projects, a commercial real estate developer that's moving into the flexspace market, opened the discussion by explaining how they used to buy a building, develop it and try to deliver high-quality, design led buildings. Now with their new platform, General People, they can deliver flexible, service-driven workspaces in value-driven locations.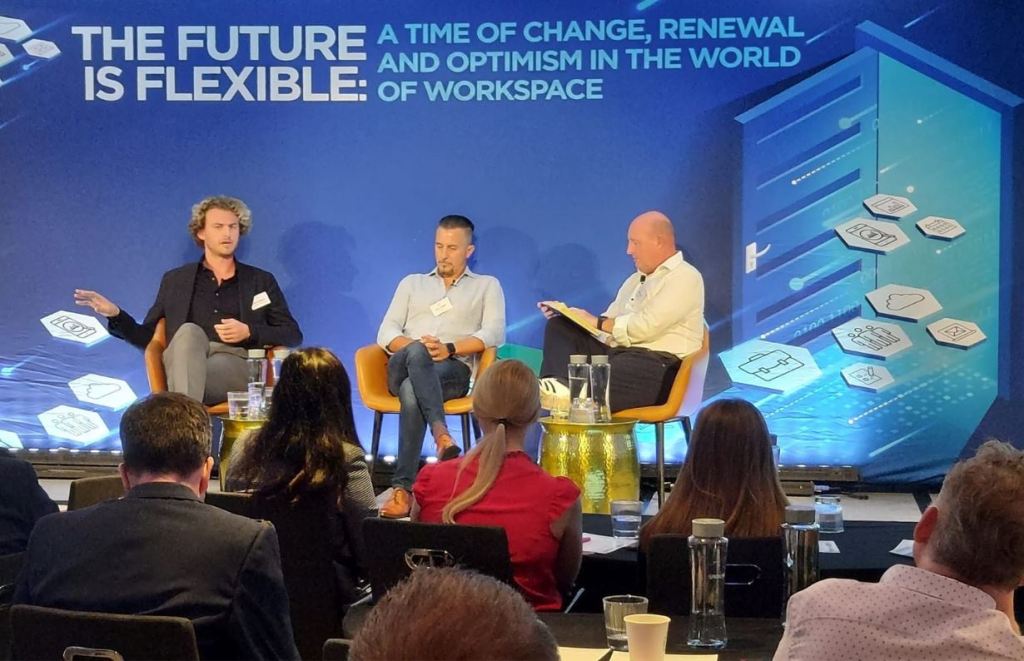 Sandelson explained, "General People as a platform isn't something we've set up to serve the needs of every single one of our General Projects buildings. We asked ourselves three questions as to why we should enter the flexspace market, what General People should do and how that should be separate from General Projects.
"1 – We've got to be delivering better yield or income for our investors than if we did a management agreement with another flex operator; 2 – We've got to deliver the best possible product for our consumer; and 3 – We've got to be able to do it in a sustainable way. We believe we're holding onto that," continued Sandelson.
Zach Douglas, CEO for Orega, on the other hand, looks at the commercial real estate sector and aims to make partnerships. When Orega started, they realised the risk and reward was in the wrong place, so they aligned themselves with funds and real estate companies to provide them a higher yield. This was to ensure the risk was where it should be and the reward was evenly shared. Douglas said, "The important thing for our industry is looking after our customers, we are in the customer service business, not the real estate business."
Why Should Commercial Real Estate Embrace Flex?
Consumer preference has changed. Flexspace operators have made flex a viable option for any office occupier, and as we move forward, landlords will be expected to have a flex policy in place.
Sandelson stated, "From a commercial side, there are three options for you to put flex into your building; a conventional lease, partnering with someone like Orega, or if you have a large enough portfolio, you can either set up or buy exclusive and go exclusive with that operator."
The way people work and use offices has changed, consumers have moved away from having one central location for work, they want multiple work areas throughout the space. Consumers want a different area for meeting huddles and places to sit and catch up over a coffee, as well as areas for Teams or Zoom meetings that are away from a static desk.
Douglas acknowledged, "Back in 2000, lease lengths were just under 10 years whereas now they're probably just under five years. So, in 20 years, they've halved. Landlords are realising their building needs to be the destination as opposed to the client floor.
"Employees are going to demand more of their workspace than they ever did before," Douglas continued.
The panel ended with Justin asking both Zach and Jacob what advice would they offer to commercial real estate operators entering the flex market.
"You've either got to back yourself to get to scale if you're going to own or operate, or you should partner with a third-party manager/operator to do it for you," expressed Sandelson.
Whereas Douglas advised, "You've got to make it seamless and make sure the integration of what you provide and what the landlord provides is absolutely frictionless. It has to be an easy relationship for them to enter into and for them to administer."
Where and how we work is evolving, and by embracing flexible workspaces, you can support the demands of the consumer.
See how you can automate your space with Yardi's all-in-one coworking solution, Yardi Kube Space Management.